Monterey Consultants was certified by the State of Ohio Department of Administrative Services (DAS) as a Veteran-Friendly Enterprise (VBE) on March 22, 2018. Monterey now participates in the VBE program under the following UNSPS codes:
80000000 Management, Business Professional Services
80100000 Management Advisory Services
80101500 Business, Corporate Management Consulting
80101600 Project Management
80141500 Market Research
The State of Ohio's Veteran-Friendly Business Enterprise (VBE) Procurement program provides preference or bonus points to certified companies that compete to contract with the state to supply the goods or services it needs, including eligible construction services.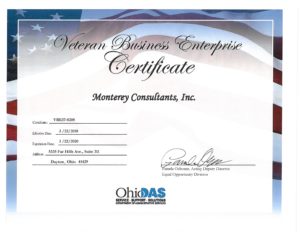 According to the latest Ohio DAS report (report last updated March 9, 2018) Monterey is one of 82 VBEs in Ohio, Indiana, Georgia, Pennsylvania, Florida, Virginia, and Tennessee. While providing procurement and management services primarily at the Federal level, Monterey now hopes to expand into the state sector.
More information about Ohio's VBE program can be found at: http://www.das.ohio.gov/Divisions/Equal-Opportunity/Business-Certification/Veteran-Friendly-Business-Enterprise-VBE-Program